Waiting on Wednesday is a weekly meme brought to us by
Breaking The Spine
, were we talk about books we cant wait to read!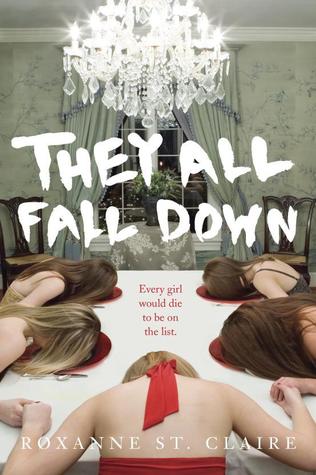 Titles: They All Come Down
Author: Roxanne St.Claire
Publisher: Delacorte
Pages: 256
Pub Date: October 14th, 2014
Add on Goodreads
Pretty Little Liars meets Final Destination in this YA psychological thriller that will have readers' hearts racing right till the very end!
Every year, the lives of ten girls at Vienna High are transformed.
All because of the list.
Kenzie Summerall can't imagine how she's been voted onto a list of the hottest girls in school, but when she lands at number five, her average life becomes dazzling. Doors open to the best parties, new friends surround her, the cutest jock in school is after her.
This is the power of the list. If you're on it, your life changes.
If you're on it this year? Your life ends.
Why I'm Excited
First that cover is amazing, and the actual blurb makes it sound like an intense and gory read. It has a lot of potential to be a fun and unique read, I just hope it holds up!
What are you waiting for this Wednesday? If you made a post leave a link below :)