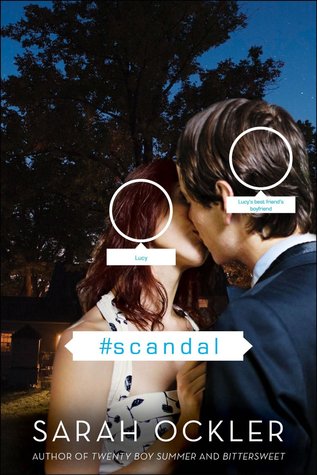 Title: #Scandal
Author: Sarah Ockler
Pages: 368
Publisher: Simon Pulse
Pub Date: June 17th 2014
Source: Edelweiss
Add on Goodreads or Buy from the
Book Depository
Lucy's learned some important lessons from tabloid darling Jayla Heart's all-too-public blunders: Avoid the spotlight, don't feed the Internet trolls, and keep your secrets secret. The policy has served Lucy well all through high school, so when her best friend Ellie gets sick before prom and begs her to step in as Cole's date, she accepts with a smile, silencing about ten different reservations. Like the one where she'd rather stay home shredding online zombies. And the one where she hates playing dress-up. And
especially
the one where she's been secretly in love with Cole since the dawn of time.
When Cole surprises her at the after party with a kiss under the stars, it's everything Lucy has ever dreamed of… and the biggest BFF deal-breaker ever. Despite Cole's lingering sweetness, Lucy knows they'll have to 'fess up to Ellie. But before they get the chance, Lucy's own Facebook profile mysteriously explodes with compromising pics of her and Cole, along with tons of other students' party indiscretions. Tagged. Liked. And furiously viral.
By Monday morning, Lucy's been branded a slut, a backstabber, and a narc, mired in a tabloid-worthy scandal just weeks before graduation.
Lucy's been battling undead masses online long enough to know there's only one way to survive a disaster of this magnitude: Stand up and fight. Game plan? Uncover and expose the Facebook hacker, win back her best friend's trust, and graduate with a clean slate.
There's just one snag—Cole. Turns out Lucy's not the only one who's been harboring unrequited love...
This book was (obviously) full of Scandals and gossip scenes, in a very Sarah Ockler fashion, there is comedy while at the same time having a sense of dread. For anyone whose read Sarah Ockler's writing you know to prepare with a few tissues. There's normally death and grief and I big breakdown moment but in this one, im glad to say that it's not an issue. There's a lot of comedy relief and even though there is sadness it's not hate-my-life sadness.
Now my FAVORITE thing about reviewing this is that I can use Veronica Mars Gifs because it's almost exactly alike (minus murder of course) and they even get compared in the book, and as a huge Veronica fan I was jumping up and down.
So when I first started reading, I was very confused. Mostly because I had read the blurb wrong, I thought our Main Character Lucy was the famous one but instead it was one of her family members. Once I cleared that up I could understand a little more. Emphasis on a little because it started out from the get go talking about Corporations against electronics, mermaids and zombies.
So Lucy's best friend Ellie, asks her to go to prom with her boyfriend, Cole. Lucy has been inlove with Cole but because of Ellie she's buried it inside herself. Cole also like Lucy, and they both have these really strong feelings for each other that has been supressed for all of high school. And now they decide to drink and talk and that leaves to a very intense kiss.
"
Apparently the rent a princess list of duties stops just short of "attend intimate all-nighter at my boyfriend's secluded mountain cabon"
Which ends up on her facebook the next day. Now that wouldn't be too bad if it was just her but it was pictures of every other person at the party, some in very incriminating positions. Because it came from her facebook everyone immediately blames her so now she has too prove her innocence. Expect she refuses to delete the pictures, or ask the principal for help, or talk to anyone really.
We don't really get to see any of Ellies personality, mostly she's mad and the little we see of her she's keeping a secret from Lucy. As for Lucy she's a zombie killing, butt kicking , army boot wearing tough chick. Even though she's borderline whiny it doesn't get annoying because you can really feel her pain.
There's so much more than just who posted these pictures? Theres a gossip column called "Miss Demeanor" which add fuel to the fire, along with another facebook page called "Juicy Lucy" made to get even more people mad at Lucy. Thankfully Lucy doesn't have to go through all of this by herself, she found allies between the anti social networking group (e)vil and the editor of school newspaper Franklin.
There were a lot of pop culture references. Not just Veronica mars but also star trek, star wars, social networks and the Hunger Games.
"if you rearrange the letters in ' corporate social network' you can make, 'Capital' and 'Snow'."


The biggest theme of this book is to always be yourself, even if it means making hardest decision. And also that you can't help who you love. It's repeated quite a lot, by almost all the characters.
Overall it was a WONDERFUL book. It made me laugh, it made me sigh and I even teared up a few times. The only thing I would change was to explain a few more things and have more backstory on Ellie and Lucy.
BONUS: My favorite Veronica Mars moment:
And a compilation of Logan and Veronica Moment: