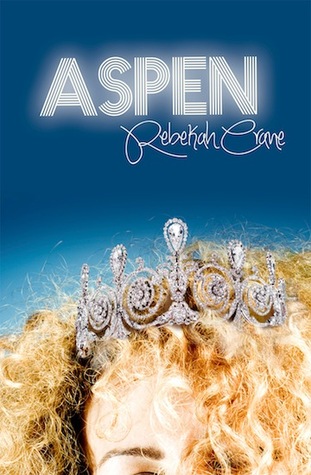 Title: Aspen
Author: Rebekah Crane
Pages: 236
Pub Date: June 5th 2014
Publisher: In This Together
Source: Netgalley
One quiet night in Boulder, Colorado, Aspen Yellow-Sunrise Taylor made a mistake.
In the next instant, her life changed forever.
Aspen doesn't want to remember the car accident that killed Katelyn Ryan, a sleek-haired popular soccer player. But forgetting is hard-- because Katelyn may have died -- but she didn't leave. Her ghost is following Aspen around, and heading into senior year, it's kind of a problem. Especially when Katelyn's former boyfriend Ben appears to be the only person at school with a clue as to how Aspen feels.
Popularity, Homecoming Court, hot guys - none of these things ever mattered to Aspen. She's been busy trying to keep her stoner mother Ninny in line and out of unemployment. But with Ben sitting next to her in Physics and her therapist begging her to remember all the things she wants to forget, Aspen is thrust into a vivid, challenging world she can't control ... and doesn't want to.
A darkly funny, emotionally gripping story of opening up, letting go, and moving on, Aspen is about the best-worst accident of your life ... and what comes next
"Maybe life isn't about seeing ourselves. Maybe its about letting other people see us."
Aspen is as emotionally lifting as it is destroying, its full of beautiful quotes and moments. Some were sad, but most made me laugh and smile. It wasn't any bit of a surprise for me when I went on Goodreads and I saw all the 5 star reviews.
Aspen was involved in a car accident with Katelyn Ryan, a popular girl at her school. Aspen got out of the accident with an injured leg while Katelyn never got up again. Returning to school and normal life, nobody blamed Aspen (unlike every other car accident book ever) but they constantly reminded everyone how perfect Katelyn was. Aspen can't remember anything of the car accidents but from what we can peace together it had something to do with her phone. She's guilty about what happened and instead of talking about it she tries to act like nothing happened which is a huge mistake because she sees Katelyn everywhere, haunting her.
"I grab my phone and throw it out the car window. It shatters on the road, broken to pieces. When I glance back at the passenger seat, Katelyn is gone."
Aspen was such an amazing character, she was so real and down to earth. She was quirky and even though I was fighting with her half the book to just talk to someone, It's not something you could hold against her.
"I think its kind of weird that she displays stuff from places she's never been, but who am I to judge? I see a dead girl."
This book had a deep and haunting story yet it didn't make you hate your life, or become senselessly depressed. Instead it mixed the shallow subjects with the emotional problems beautifully.
Our main guy is Ben who had "eyelashes like snuffleupagus's on Sesame Street." It was odd because he was Katelyn's boyfriend at the time of the accident. At first I was instantly weirded out and I wasn't sure if I could even finish the book, but the deeper I got into the book the more I could see everything from Aspen's point of view.
The rest of the characters were quirky and odd (which I love). It starts with Aspen's mom, who she affectionately calls Ninny. She spends half the book smoking crack and having sex with a different guy.
"You want to know what I believe in? When you meet someone and you're drawn to that person for a moment in time. But that's it. It fades like everything else. And there's nothing wrong with that. I'd rather spread my love."
Next we have Cass and Kim, they are aspen's best friends who are secretly in love with each other. I only wish we could have seen more of them, they were so fun and light hearted while still being supportive. Last is Katelyn's best friend Suzy, who feels bad for Aspen and starts to become best friends with her, she's another character that I was prepared to hate but in the end I loved.
"You know what I'm really mad at Katelyn for? I'm mad at her for not living. Happiness isn't a given in life. And when you're happy you should hold onto it."
The story line was pretty unpredictable, we get glimpses and hints of what happened but we don't hear the entire story until the end. With everyone talking about how perfect Katelyn was, I was dying to hear what her friends had to say about her which is another thing that doesn't happen until the end.
Overall this is a thrilling book that keeps you hooked from page one. It'll make you laugh and cry but you'll love it. I look forward to reading more from Rebekah Crane.