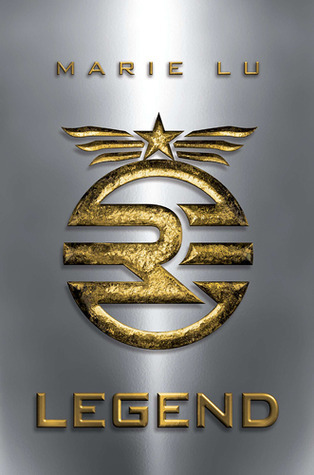 Title: Legend
Author: Marie Lu
Pages: 304
Pub Date: November 29th, 2014
Publisher: Putnam Juvenile
Source: Bought
Add on Goodread's or Buy at the Book Depository
What was once the western United States is now home to the Republic, a nation perpetually at war with its neighbors. Born into an elite family in one of the Republic's wealthiest districts, fifteen-year-old June is a prodigy being groomed for success in the Republic's highest military circles. Born into the slums, fifteen-year-old Day is the country's most wanted criminal. But his motives may not be as malicious as they seem.
From very different worlds, June and Day have no reason to cross paths - until the day June's brother, Metias, is murdered and Day becomes the prime suspect. Caught in the ultimate game of cat and mouse, Day is in a race for his family's survival, while June seeks to avenge Metias's death. But in a shocking turn of events, the two uncover the truth of what has really brought them together, and the sinister lengths their country will go to keep its secrets.
Everything that could be said about Legend has been said, but im still going to talk about it because it was AMAZING. It was one of the few dystopian books that didn't make me roll my eyes or get bored.
After hearing that it was inspired by Les Miserables and the relationship between a Notorious Criminal and a Prodigious Detective I ran out to buy it. All the great reviews helped too.
It follows the story of Day and June, we get to see both point of views and it was the cutest thing because Day's point of view had its own font and color. It was beautiful and every book with multiple POV's should do the same thing.
From the get go we get the feeling that there's something wrong with the government and the entire system. We start with Day's POV were he tells us that there's a trial exam everyone has to take, those who pass get to live and depending on how well they did, they can finish high school and go to college. Those who fail must face certain death, except for Day who managed to escape and the military hates him for it.
I'm not huge on military terms or how they work. My knowledge of military doesn't go beyond the Fox show Enlisted.
Even with my lack of knowledge, I was able to understand basically everything (with minimal googling of course ) and it never got annoying.
There were a lot of Plot twist, almost all had to do with death so if you're a crier you should skip this book. I would've wanted to see more of the relationship between Day and June, even though the story centers around them they only meet for about a week. Not too mention they're mostly in front of other people so their conversations aren't intimate.
It also would have been nicer to see more from Tess and from life in streets. Tess is a girl who Day saved of the streets, but she sort of fades after halfway through. Since there's still 2 books left in the series, I'm hoping she comes back.
The world building was basically spotless, but by the end of the book we still don't know the whole story of what created the world they live in or why the government is so secretive.
Normally, the first book in any series is hard to get through but Legend was so a lot of fun and adventure and I cannot wait to finish the rest of the series. Also this is going to be a movie soon and I hope it's as good as the book was.