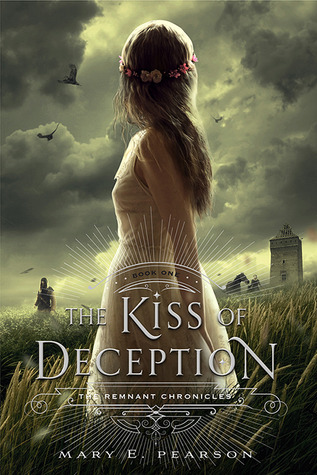 Title: The Kiss of Deception
Author: Mary E. Pearson
Pages: 504
Publisher: Henry Holt
Pub Date: July 8th
Series: Yes
Source: ARC from Publisher (Thank you!)
Add on Goodreads or Pre-Order at The Book Depository
In this timeless new trilogy about love and sacrifice, a princess must find her place in a reborn world.
In a society steeped in tradition, Princess Lia's life follows a preordained course. As First Daughter, she is expected to have the revered gift of sight—but she doesn't—and she knows her parents are perpetrating a sham when they arrange her marriage to secure an alliance with a neighboring kingdom—to a prince she has never met.
On the morning of her wedding, Lia flees to a distant village. She settles into a new life, hopeful when two mysterious and handsome strangers arrive—and unaware that one is the jilted prince and the other an assassin sent to kill her. Deception abounds, and Lia finds herself on the brink of unlocking perilous secrets—even as she finds herself falling in love.
I'm a sucker for books with strong female leads and set in a historical setting. There's a lot of book with princesses in distress that need to be saved by the dashing princess and I'm so glad that this was nothing like that.
Princess Arabella Celestine Idris Jezelia does not like her future. Instead of sitting back and waiting for someone else to help her, she jumps on a horse to find another fate. Even though she's a princess she immediately finds a way to make money working as a waiter. Her best friend and lady in waiting Pauline went with her and together they try to make their new home a paradise.
"It was something about the air, something about the light, something I couldn't namem but it streamed through me like a warm voice. Home. Home. Foolishness, I knew. Terravin had never been my home, but maybe it could be."
Not everything Is perfect for Lia, which is what she goes by. She pissed of a lot of people with her choices and theres not 1 but 2 assassins after her and a mysterious guy who she can't seem to figure out. Even though our mysterious guy isn't deadly he's the main love interest and just cause I don't like weake females, doesn't mean I don't love a mysterious hunk.
My favorite part about Lia is how sassy and stubborn she is, even in the worst situations.
"The last time they unbound my hands and took the hood off, I'd swung the canteen at his head, so they confiscated it."
I read this entire book while babysitting at the pool and I kept trying to quiet my snickers at all the sass coming out of Lia. Also even though it seems like a large book, it goes by fast and its full of so many twist and turns you don't want to stop.
Our assassin is another of our main characters and to be honest I fell more in love with him than with our mysterious hunk. I like the fact that we get to see how his character evolves from a heartless killer to a slightly more heart-full killer.
"I wanted to lie to her, tell her that I had never planned to kill her, convince her that I'd never kill anyone, to take back my whole life and rewrite it in a few false words, lie to her the way I already had a hundred times before. "
His story broke my heart, and I wish we could have seen more of it.
Lia also has a special gift, apparently its a gift that every first daughter has but she has yet to get it or if she did, she was taught to forget it. It's another thing that I would have liked to be expanded. It is a series though so there's plenty of time for it to be explained.
Overall this was an above average book, it was magical and romantic while being completely kick-butt. A definite Must Read.