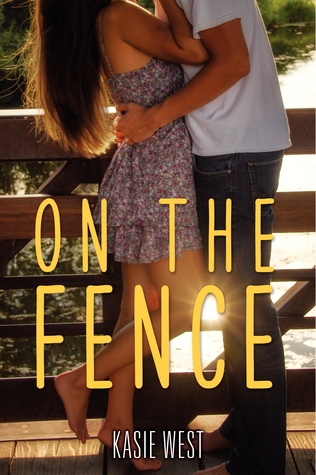 he's a tomboy. He's the boy next door…
Charlie Reynolds can outrun, outscore, and outwit every boy she knows. But when it comes to being a girl, Charlie doesn't know the first thing about anything. So when she starts working at a chichi boutique to pay off a speeding ticket, she finds herself in a strange new world. To cope with the stress of her new reality, Charlie takes to spending nights chatting with her neighbor Braden through the fence between their yards. As she grows to depend on their nightly Fence Chats, she realizes she's got a bigger problem than speeding tickets-she's falling for Braden. She knows what it means to go for the win, but if spilling her secret means losing him for good, the stakes just got too high.
Fun, original, and endearing,
On the Fence
is a romantic comedy about finding yourself and finding love where you least expect
I wasn't sure about reading this when everyone was talking about it. I haven't read any of Katie West's previous books but everyone had good comments. After seeing the excitement I decided to give it a chance and I was extra excited when I got approved for it on Edelweiss. I'm not sure if it's because of the take on older brothers or the swoony romance but I loved it!
Charlie was raised as a boy, even though she was a female. Her mother died when she was only 6 and her 3 brothers turned her into "One of the guys". The only problem is that she's getting older now, it's not until her dad forces her to get a job, from there she starts seeing that there is life beyond her family and sports. She starts to meet other females, experiments with Makeup, and gets a boyfriend.
Not only does her perspective on her life changes but also on people she'd known her whole life like her neighbor Braden. Her sexy, tall, and tan neighbor Braden…
My favorite was how flawed all the characters were, it didn't make me want to punch them, just more realistic. For example Charlie was naive and stubborn, Braden had a short temper and was awful at expressing himself, her brothers were inconsiderate and rude most of the time. Even though Charlie has that "You never knew she was beautiful until she took a shower and put make up on" Moment, she never got cocky. Even through her pessimistic view of girlie girls and her brothers were always hitting on gorgeous girls, there wasn't any girl on girl hate
"I have no idea what makes a girl undateable. Truthfully, I'm not even sure a girl with a sparkly announcement on her butt isn't worthy."
I know for a lot of girls with older brothers, they're constantly comparing themselves to gorgeous girls and falling short. This causes self-pity and confidence issues, but Charlie never wanted to be like those girls, she was happy with who she was. All she wanted was too be seen as normal, which was a lot better than self pity. Through all of these growing up confidence issues, she was still trying to get over her mom's death. Even though her mom had died years ago she hadn't talked to anyone about it, she just sort of let it sit there and fester. Which caused nightmares, and since she didn't have any girl best friends she went to the next best thing, Braden. That's where the title comes from, they meet up at midnight by the fence and have impossibly cute conversations.
Another thing I liked is that there was no moral compass gone bad situation. Theres no cheating, no abuse, no underage drinking. Basically it was clean and it was so easy to just dive into Charlies life, it's one of the few books that I could just lose myself in. There was always that mystery about her mom and what really happened, because of all the foreshadowing it wasn't hard to guess what happened but it was still a suspenseful moment.
I could continue talking about all my favorite things and how I wish this book was 800 pages longer because I didn't want it to finish it. But I'm going to leave it here and just say, it was a beautiful Contemporary Romance that dealt with all sort of deep and shallow issues we all face.
~ Thank You Edelweiss! ~