Waiting on Wednesday is a weekly meme hosted by
Breaking the Spine
where we talk about books we can't wait to read!
Bree's Pick:
Rhett in Love- September 23rd, 2014
(This book doesn't have a summary yet, so I am including the summary from the first book, Rhett)
I'm cocky because I can be. I've got it all: the looks, the money, the endurance. I'm the guy that every girl wants to be with, yet none of them have ever been able to tie me down.
I don't do love. I don't do relationships. And I sure as hell will never do marriage.
I'm all about the fast life and everything that entails. There's a different woman in my bed every week. My friends are jealous of me. My enemies envy me. Everyone wants my life. And everything in my life is absolutely perfect.
Until the day she told me she was moving away. She's my best friend. She was my first kiss in grade school. We share everything with each other. We never dated because I don't love her. I don't care that she's moving. I don't care that she's moving for a guy. I don't care because I don't love her. I don't do love.
I'm Rhett and I don't let anything get me down. Then one night changed everything and everything I thought I knew was called into question.
All of a sudden, being Rhett didn't mean so much anymore
Why I'm excited:
I read the first book Rhett, and it was AMAZING. Just look at that cover model. I admit, the eyes made me buy it, but J.S Cooper writes some amazing stories and I don't know if I can wait another month to buy the book.
Catch up with book one HERE
Nemo's Pick: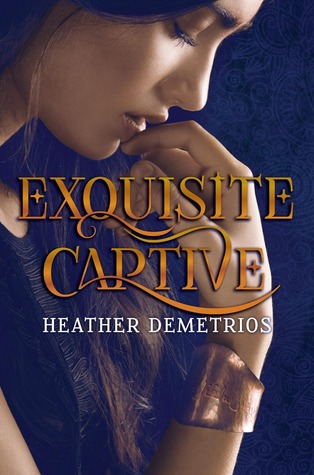 Title: Exquisite Captive
Author: Heather Demetrios
Pages: 480
Publisher: Balzer + Bray
Pub Date: October 7th
Add to Goodreads
Forced to obey her master.
Compelled to help her enemy.
Determined to free herself.
Nalia is a jinni of tremendous ancient power, the only survivor of a coup that killed nearly everyone she loved. Stuffed into a bottle and sold by a slave trader, she's now in hiding on the dark caravan, the lucrative jinni slave trade between Arjinna and Earth, where jinn are forced to grant wishes and obey their human masters' every command. She'd give almost anything to be free of the golden shackles that bind her to Malek, her handsome, cruel master, and his lavish Hollywood lifestyle.
Enter Raif, the enigmatic leader of Arjinna's revolution and Nalia's sworn enemy. He promises to free Nalia from her master so that she can return to her ravaged homeland and free her imprisoned brother—all for an unbearably high price. Nalia's not sure she can trust him, but Raif's her only hope of escape. With her enemies on the hunt, Earth has become more perilous than ever for Nalia. There's just one catch: for Raif's unbinding magic to work, Nalia must gain possession of her bottle…and convince the dangerously persuasive Malek that she truly loves him. Battling a dark past and harboring a terrible secret, Nalia soon realizes her freedom may come at a price too terrible to pay: but how far is she willing to go for it?
Inspired by Arabian Nights, EXQUISITE CAPTIVE brings to life a deliciously seductive world where a wish can be a curse and shadows are sometimes safer than the light.
Why Am I Excited: First it sounds amazing! I am always up for a main character with a terrible secret and proving true love. It sounds like its going to be intense and slightly romantic. Most of the early reviews i've read are all raving about how great it is!
What are you waiting for this Wednesday? Leave a link and

Comment below!