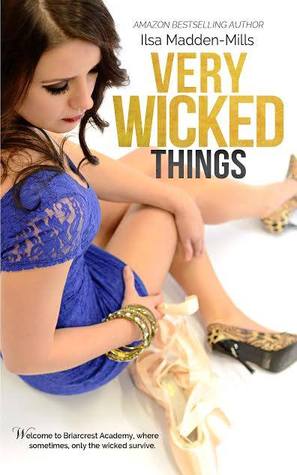 Title: Very Wicked Things
Author: Ilsa Madden-Mills
Publisher: Little Dove Publishing
Pub Date: May 13th, 2014
Add to Goodreads
Born on the poor side of town...
Ballerina Dovey Beckham is a scholarship student at Briarcrest Academy, determined to prove she's more than just a girl with the wrong pedigree. She does whatever it takes to succeed in her endgame, even if it means surrendering her body…but never her heart.
Until the day she meets him, and he rips apart all her well-laid plans. Suddenly, the girl everyone thought unbreakable might just shatter.
Born into wealth and privilege...
Cuba "Hollywood" Hudson is rich, spoiled, and a star football player. With his fast cars and superficial girlfriends, he lives the high-life, hiding his secrets from the world.
Until the day he meets her, and she offers him something he's never tasted... love.
But once in a lifetime kind of love doesn't come easy. When trust crumbles and doubts creep in, both will have to decide to either love or let go... forever.
Welcome to Briarcrest Academy, where sometimes, only the wicked survive
Nemo's Review:
I had high expectations for this one! I really liked reading the first book in the Briarcrest Academy Series (Very Bad Things) and I was hoping this one was just as good. What I realized when I got about halfway through was that I really can't compare the two. Instead of being a spoiled rich girl, Dovey was a girl from the streets who literally had to raise herself. Everything she had was because she struggled to reach them. Cuba on the other hand was a rich kid BUT because of his awful past I found it hard to hate him.
Dovey was a hard core girl who spent a lot of time dealing not only with her past but for her degrading guardian's health. On top of all that she's a dancer, and even though I'm not a dancer I've enough TV shows and movies to know that being a Ballet Dancer requires work and dedication. She was easy to like and I found myself feeling really sympathetic with her.
Cuba on the other hand I tough time handling. He was full of secrets and regrets, but he also picked the worst way to deal with them. Instead of going to therapy or talking to someone, he decided to spend every night with a new girl. And he also decided to diss Dovey and treat her like she was nothing, instead of you know talking to her. He was a very frustrating main guy because it was difficult for me too understand him… at least until all his secrets came out.
Now this is definitely a book that talks about heavy subjects and there were some intense moments that were tough to read. At the end, Ilsa asks us what guy we want to hear from next, either British Spider or Sebastian, and I would LOVE to read more about Sebastian and his flirty self, even if not happy with who he's with know.
Overall this was a good sequel but not if you're looking for a light hearted read.
~ Thank You Netgalley ~
Bree's review:
I was provided an ARC for my honest opinion. I loved the first book in this series, though it had been about a year since I had read it, so I didn't remember if these character were introduced in book one.This is a story about Cuba and Dovey, two high schoolers who couldn't be more different. She is a poor girl who wants to be a dancer, he is a rich jock. Pretty typical.
While I wanted to love this story for its good writing, I couldn't get into the characters. For being a ballet dancer who wants to get into a troupe, we never see, hear, or feel Dovey's passion. She never practices, watches what she eats, or stresses about her future. She just talks about wanting to dance. That's all.
Then she fawns the entire time over a guy who treats her like crap. If she were my daughter, I would smack her six times into Sunday. I found myself skipping past the flashbacks because they were so predictable and boring.
Something bad happened, we know! But at this point I am so pissed at Cuba for being a jerk, I don't even care what happened before because we know how it ended. Badly. If she writes another book in the series, I will read it ;)
In the end, both the characters made terrible decisions. I finished the book, so it wasn't terrible. I just wasn't blown away or in love with it.