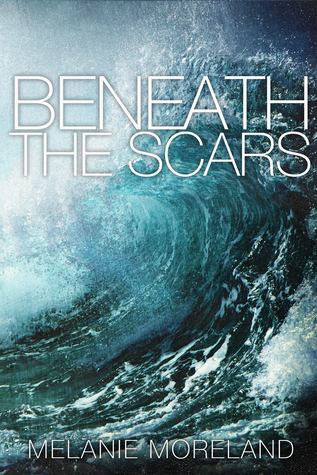 Title: Beneath the Scars
Author: Melanie Moreland
Pages: 262
Pub Date: October 14th, 2014
Source: Blog Tour
Add To Goodreads
The sound of the ocean, the crash of the waves as they kick up against the sand and rocks—these are the only sounds Megan Greene wants to hear. She wants to leave the rest of the world behind, and find some peace.
The offer of a private house on the beach, set in a small town in Maine, is perfect. Time to think—to be by herself. It's all she wants. It's the escape she needs.
Until she stumbles across the painting that seems to echo her own chaotic mindset.
Until she meets the unfriendly artist behind the stormy painting and discovers his secrets.
All Zachary Adams wants is to be left alone. His canvases, and the unending scope of the ocean and sand, are his life. They direct him—fill his hours. Bring him focus.
Until she enters his life.
She dredges up memories of the past—the haunting images he has hidden for years; the fears he has never shared.
A story he keeps buried below the surface.
Can she make him see what he is missing? Can he trust her enough to believe?
Together they embark on a journey where their pasts collide and threaten to tear them apart.
Will their fragile bond hold or wash away with the ebbing tide?
I love reading stories where there's a character who has a secret past, Beneath The Scars took me for a ride because both characters had sordid past that they wanted to just forget.
After a scandal, Megan left her busy boston writing life for the quiet calm of a beach town. She needs some time on her own to reflect and figure out what to do next. What she doesn't expect is meeting the rudest (slightly cute) recluse of a neighbor. The moment they meet he doesn't sugar coat his personality. Instead he answers with grunt and nods, and in their second meeting he throws her out to the rain. The stranger she meets is Zachary, she soon finds out that he has scars. Not only internally but externally as well. He has deep seated problems and she is determined to fix him.
My favorite kind of love stories are the ones that start of as friendships, even if the friendship is only for a week or two. This was not the case with Megan and Zachary, they were barely alone for 2 min. before they started making out with each other. I mean what kind of smart girl goes into a guys house, someone she doesn't know, who has no friends and starts to make out with him! I mean really? Then after that she starts to essentially stalk him by coming to his house every day and leaving him food. It seemed more creepy and obsessive than real love.
It doesn't get any better. They're relationship immediately becomes co-dependent. To the point that Megan cant leave the house without Zachary being on the brink of a meltdown. As the story unfolds and we find out what happened to Zachary that messed him up it became a little easier to read. The best part of the story was when Zachary's past was revealed. It was messy, sad, and extremely dramatic. I did not guess or imagine at all. It is what earned an entire star for this book.
Now Megan's story was one I'd heard before, actually I've heard it a few times, even in a blockbuster movie.


One thing I did like was that Zachary wasn't the perfect guy, not even close. He changed for Megan but just when they were alone. To everyone else he still needed help and he did not get alone with her best friend Karen. Her best friend Karen was a head strong hairstylist, she was always there when Megan needed her but didn't take crap from anyone.
Overall the story develops nicely but there were more things that annoyed ane bugged me. Recommend for any Nicolas Spark fans.
Author Guest Post: Playlist
Top 10 songs that remind me of Beneath
1 Alone in This Bed – Framing Hanley
2 The Mess I've Made- Parachute
3 Stranger – Secondhand Seranade
4 Whatever it Takes - Lighthouse
5 Set Fire to the Rain - Adele
6 Broken – Secondhand Seranade
7 She – Elvis Costello
8 Beside You – Marianas Trench
9 If You Only Knew - Shinedown
10 Once- Air Supply (I hear this song every time I read the last chapter – the mood it sets is perfect)
AUTHOR BIO
Melanie Moreland lives a happy and content life in a quiet area of Ontario with her husband and fur children. Nothing means more to her than her friends and family, and she cherishes every moment spent with them.

Known as the quiet one with the big laugh, Melanie works for the sporting teams of a local university. Her (box) office job, while demanding, is rewarding as she cheers on her team to victory.

While seriously addicted to coffee, and somewhat challenged with all things computer-related and technical, she relishes baking, cooking, and trying new recipes for people to sample. She loves to throw dinner parties and socialize, and also enjoys travelling, here and abroad, but finds coming home is always the best part of any trip.

Melanie delights in writing a good romance story with some bumps along the way, but is a true believer in happily ever after. When her head isn't buried in a book, it is bent over a keyboard, furiously typing away as her characters dictate their creative storylines, to her even more inspired tales, for all to enjoy.
Author links: