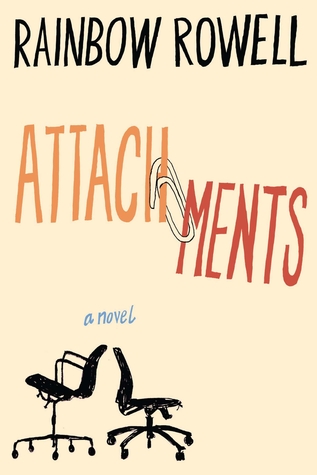 Title: Attachments
Author: Rainbow Rowell
Pages: 323
Publisher: Dutton Adult
Pub Date: April 14th, 2011
Source: Bought
Add To Goodreads
"Hi, I'm the guy who reads your e-mail, and also, I love you . . . "
Beth Fremont and Jennifer Scribner-Snyder know that somebody is monitoring their work e-mail. (Everybody in the newsroom knows. It's company policy.) But they can't quite bring themselves to take it seriously. They go on sending each other endless and endlessly hilarious e-mails, discussing every aspect of their personal lives.
Meanwhile, Lincoln O'Neill can't believe this is his job now- reading other people's e-mail. When he applied to be "internet security officer," he pictured himself building firewalls and crushing hackers- not writing up a report every time a sports reporter forwards a dirty joke.
When Lincoln comes across Beth's and Jennifer's messages, he knows he should turn them in. But he can't help being entertained-and captivated-by their stories.
By the time Lincoln realizes he's falling for Beth, it's way too late to introduce himself.
What would he say . . . ?
I love Rainbow Rowell, she is the one person on all of twitter who gets an automatic retweet because their all gold. Which is why I decided to read Attachments to try and get me out of my recent reading rut. I've started a lot of books but I find myself dropping them before the 5th chapter.


Attachment (even with its faults) was a breath of fresh air and got me out of that awful rut! It also convinced me to finally watch You've Got Mail. Which thank you for that because it was adorable and Tom Hanks always deliver
But back to Attachments, so it starts off with Lincoln, he is your basic lonely nerd, up until halfway through this is who I thought he was like:

He was a sad being who had to move back with his mom after his moving across the country for his girlfriend and it not working out. Flash forward to him working all night and reading peoples email for a living, he wasn't really a winner.
That is until he starts trying to get better. Instead of just being a creep to everyone he was just a creep to two best friends: Jennifer the copy room editor and Beth the movie reviewer.
Beth and Jennifer's voice in the novel we only see through the emails. Which was so well done that I sometimes forgot we weren't seeing their point of view instead just reading their emails too. Beth was your regular nice girl who always had a boyfriend and had no problem making friends yet still had self-esteem issues. Jennifer was the opposite in the sense that she was never the popular girl and had trouble making friends. They both had self-esteem problems but Jennifer's were deeply rooted as she had a bad childhood and a lot of problems.
Jennifer was married to an adorable dork, Mitch, and Beth was in a long term relationship with her college boyfriend. Even though Lincoln knew they both had significant others, he couldn't stop thinking about Beth. Which is why instead not reading her emails, he keeps reading them but starts to work on himself. He goes out with friends, he tries to become more independent, and even goes on a kinda date. All so that he can eventually as the girl he's been kinda stalking out. As the book goes on it becomes apparent that instead of looking like Howard Wolowitz he looks a little like this:
Ill take it because what book lover doesn't dream about finding their cute hunky nerd? Through out the book we get to meet Jennifer and Beth who have a friendship I'd like to steal and see how Lincoln goes from rock bottom to best high there is.
Overall a must read for Rowell fans and for anyone who just likes cute books.