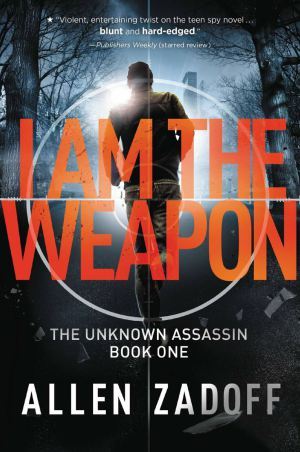 Title: I am the Weapon
Author: Allen Zaddoff
Pages: 368
Publisher: Little Brown Books
Pub date: May 13th 2014
Source: Netgalley
"They needed the perfect assassin."
Boy Nobody is the perennial new kid in school, the one few notice and nobody thinks much about. He shows up in a new high school in a new town under a new name, makes a few friends, and doesn't stay long. Just long enough for someone in his new friend's family to die-of "natural causes." Mission accomplished, Boy Nobody disappears, moving on to the next target.
But when he's assigned to the mayor of New York City, things change. The daughter is unlike anyone he has encountered before; the mayor reminds him of his father. And when memories and questions surface, his handlers at The Program are watching. Because somewhere deep inside, Boy Nobody is somebody: the kid he once was; the teen who wants normal things, like a real home and parents; a young man who wants out. And who just might want those things badly enough to sabotage The Program's mission.
In this action-packed series debut, author Allen Zadoff pens a page-turning thriller that is as thought-provoking as it is gripping, introducing an utterly original and unforgettable antihero.
"Sam is the mark, the mayor of New York is the target, and five days is my timeline. That is my new assignment."
This book made me feel like a Weapon, it was so intense I can't think of a single word that describes it. I'm not a huge fan of thrillers and it takes me 3 tries to watch any of the Bourne movies but the blurb for this looked interesting and I gave it a try.
Unlike most thrillers this doesn't have insane killing
"Death is a tool I use for my work. It's not something I do lightly."
Our MC was not humble, he mentions how great he is at everything, only once did he ever mess up and it haunts him forever. He is also very, very dramatic…
"I feel cold, I feel hungry, I feel the faborc of a new shirt rubbing against my skin, and I feel gravel benath my feet. But those are sensations, not feelings. I had feelings once."
"I never did see that movie. I was to busy fighting for my life."
There were a few points when I got tired of hearing about his sad childhood but then I'd probably react the same way if I was kidnapped and turned into an assassin.
I was a bit sketchy when we find out that he has only 5 days to eliminate the Mayor and get close to his Daughter, Sam. What normal girl trust a guy after just one or two days? Especially one who has been trained to keep people from knowing the truth? Yet even though we only have 5 days we got to see a lot of Sam. She wasn't just a shallow character or a Femme Fatale, she was fun and deep.
The only other character we really get to see is Howard, who serves as the comic relief in a way. His backstory is probably my favorite thing in the entire book.
Even though we had a back story for our nameless MC, most If it was kept a secret and by the end we're still not sure whether his father was a bad or good guy. I was getting a Spiderman vibe from it but since we still don't know how it ends it didn't bother me.
"I know my father was not the great dad I thought he was, or the man he pretended to be to the world. The program tells me one thing, but my memories tell me another."
Another thing I loved about I am the weapon (and books in general) Is when they're highly unpredictable. There were so many parts where I had no idea what was going on and there was a lot of gasping and nail biting involved.
Overall it's an amazing read and anyone who is looking for a heart racing read and a great time. I cannot wait to read the second book, I'll be sleepless until the release date! I also found out while writing this review that it has been optioned for a film and im crossing my fingers and hoping it does turn into a movie!