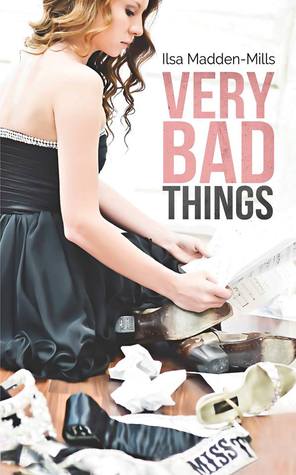 Title: Very Bad Things
Author: Ilsa Madden-Mills
Pages: 389
Publisher: Little Dove Publishing
Pub Date: September 9th 2013
Source: Netgalley
Add to Goodreads
Born into a life of privilege and secrets, Nora Blakely has everything any nineteen-year-old girl could desire. She's an accomplished pianist, a Texas beauty queen, and on her way to Princeton after high school. She's perfect...
Leaving behind her million-dollar mansion and Jimmy Choos, she becomes a girl hell-bent on pushing the limits with alcohol, drugs, and meaningless sex.
Then she meets her soulmate. But he doesn't want her.
When it comes to girls, twenty-five-year-old Leo Tate has one rule: never fall in love. His gym and his brother are all he cares about... until he meets Nora. He resists the pull of their attraction, hung up on their six year age difference.
As they struggle to stay away from each other, secrets will be revealed, tempers will flare, and hearts will be broken.
Whenever I read a story that's about rich kids I immediately prepare myself for a lot of cringing and first world problems. Thankfully I only cringed between the first 5 chapters because after that this story got real.
Nora has a lot of problems, not only is she all alone in life but she also has a huge secret that's destroying her. She's decided that its time to breakaway from her mothers abusive relationship, expect she picks the worst possible way to do it.
For Leo life is very different, after his parents died he was in charge of the family business and his little brother Sebastian. He decided the only way to get rid of the pain from his parents was to also get rid of his heart. That was until he met Nora.
"I swear it felt like someone hit the pause button on the universe, and she was all I could see."
It sounds like their relationship would be really easy since she's looking for a fling and he all he wants is flings but there's a twist. He's 25 and she's still in high school. Even though she was 18 and legal, Leo kept fighting his feelings. This was cute until about halfway through then it just got slightly annoying. I get it you want to be with her but you're worried.
As for Nora, I absolutely loved her, she realized that she was a rich girl but she was still down to earth and as she opened up and let her secrets out, the more at peace she became. It was entertaining to see how she went from a total mess to putting herself back together. She also had adorable quirks like repeating large words and comparing people to animals.
The minor characters are Sebastian, Mila, and Teddy. Mila is Nora's best friend who resembles a bunny and is very innocent YET she stands up to anyone. That's a contradiction and it felt fake but since she only comes out three to four times it's not a big deal. Sebastian was totally lovable, he was the comic relief and the side cutie. I really hope we get to see a book with just him. Teddy is an autistic musician and is completely adorable.
Now the romance was at times sexy and others were sweet. There were some intense moments and some very frustrating moments but I have a few teasers that will definitely make you want to read it (I hope!)
"Seeing her walk toward me was like hearing the sweetest rock ballad ever, playing loud and clear in my head. You know the ones, songs about love and how you never believed it existed, until you met her; songs about how you've been alone for what seems like forever, but she's gonna make it alright; songs about how you can't breathe without her. Yeah. It was like that."
"This was like when Prince Charming kissed Cinderella, only this prince was no gentleman; he was sexy and hot and played a guitar.
Overall it was a romantic read that was not in anyway shallow or cliche. Highly recommend for any New Adult fans.