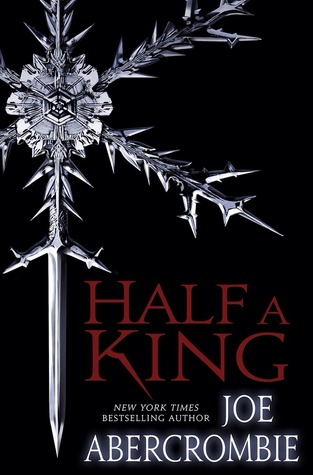 Title: Half A King
Author: Joe Abercrombie
Pages: 352
Publisher: Harper Voyager
Pub Date: July 15th, 2014
Source: Netgalley
Add to Goodreads
"I swore an oath to avenge the death of my father. I may be half a man, but I swore a whole oath."
Prince Yarvi has vowed to regain a throne he never wanted. But first he must survive cruelty, chains, and the bitter waters of the Shattered Sea. And he must do it all with only one good hand.
The deceived will become the deceiver.
Born a weakling in the eyes of his father, Yarvi is alone in a world where a strong arm and a cold heart rule. He cannot grip a shield or swing an axe, so he must sharpen his mind to a deadly edge.
The betrayed will become the betrayer.
Gathering a strange fellowship of the outcast and the lost, he finds they can do more to help him become the man he needs to be than any court of nobles could.
Will the usurped become the usurper?
But even with loyal friends at his side, Yarvi finds his path may end as it began—in twists, and traps, and tragedy.
YA Fantasy is one of my favorite genres, but it's also one of the hardest to reads. You either lose yourself in the book or its boring and hard to get through. Thankfully Half a King was not the latter, it was intense and the world building was phenomenal.
Yarvi is the second king of the son, which means he should be prepared to take the throne should his father and brother die but for him it isn't easy. He had decided to join the minister instead, because in his mind (and to his father) he wasn't strong enough, he was born with a deformity, he only had one hand.
The beginning starts out slowly, showing us who Yarvi is, his betrothed and his cold mother. Then all of a sudden bam. Things blow up in a very intense way, Yarvi goes from his black throne to a dirty chain gang as he becomes a slave. You don't think it could get worse for him but it does, he gets bought to work on a ship as a rower. So now with just one hand he has to do the job of two. Even though I was sitting in a comfy couch with air conditioning, the writing was so realistic and I could feel my own muscles hurting.
"The raw burns on his neck and the fresh scabs on is rough-shaved scalp, sweating by day and shivering by night, listening to the groans and whimpers and unanswered prayers in a dozen languages.
Now I'm not sure how to describe the rest of the book without spoiling anything, and there are a ton of spoilers that I can use because it was one twist after another. All the characters had heart and realistic, from the villains to the heroes, I want to be friends with all of them.
His mom was not just a cold and rigid queen, she was a cunning woman who knew what she had to do to serve her country and stay in power.
"The fool strikes, she had said. The wise man smiles, and watches, and learns. Then Strikes."
Now it wasn't all drama and suffering, there were moments that made me ugly snort usually brought on by Rulf or Judd, Yarvi's slave "buddies".
"The Screaming Gate Why that name? Because of the screams we'll make when this goes wrong?"
You could say that Half a King had everything, the only thing it was truly lacking was romance. Even though there technically a love interest. Their fight for survival overshadows any romantic/sexual feelings they had for each other. There will be a second book so hopefully well expand on that!
Over all it's a definite must read for fans of the Throne of Glass series, and anyone who loves an intense YA story.
~ Thank You Netgalley and Harper ~