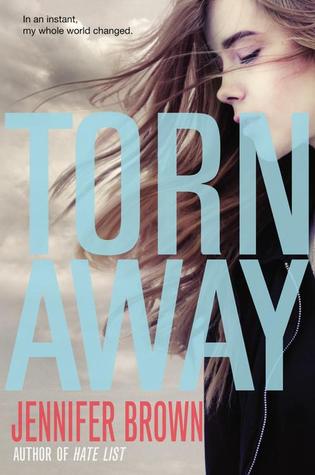 Title: Torn Away
Author: Jennifer Brown
Pages: 288
Publisher: Little Brown Books
Pub Date: May 6th, 2014
Source: Netgalley
Add to Goodreads
Jersey Cameron has always loved a good storm. Watching the clouds roll in and the wind pick up. Smelling the electricity in the air. Dancing barefoot in the rain. She lives in the Midwest, after all, where the weather is sure to keep you guessing. Jersey knows what to do when the tornado sirens sound. But she never could have prepared for this.
When her town is devastated by a tornado, Jersey loses everything. As she struggles to overcome her grief, she's sent to live with relatives she hardly knows-family who might as well be strangers. In an unfamiliar place, can Jersey discover that even on the darkest of days, there are some things no tornado can destroy?
In this powerful and poignant novel, acclaimed author Jennifer Brown delivers a story of love, loss, hope, and survival
In celebration of the Into the Storm coming out Friday I decided to finally read Torn Away to prepare my mind for storms and turmoil. I should have read other peoples review BEFORE I started, then I would have been warned of how it would break my heart. I was expecting tornadoes and suspense and while there was a tornado there wasn't a lot of suspense.
The story starts off with a strong premonition that something awful was going to happen. We see everything from Jersey's point of view and she starts to talk about how the Midwest weather was bipolar and how they get used to listening to the Tornado Sirens. Even though I lived in the Midwest for a whole year I never got used to the sirens, they were terrifying all 7 times it happened. I should also note that not once did a tornado come through the city I was in.

"Hardly anyone ever did, though, Midwest weather was crazy, after all, and half the time too crazy to really predict. We'd all learned to ignore the warnings.
For Jersey, it was a different story after the tremendous loss she went through, she didn't find a paradise with her estranged father, instead she found the hillbillies from hell with the wicked sisters included. They went as far as to leave the poor girl sleeping in a porch! If that wasn't enough to make her break down, she had always thought her father had reached out to her by sending her a birthday present and he not only denied it but said he'd never accept her as his real daughter. After hitting rock bottom, you'd think it couldn't get worse for poor Jersey… but it does.
"I'd gone from cooking dinner for my family to sleeping alone on a porch in little more than a month. My life no longer felt like mine."
She tries to run away and leave her "family" but her best friend tricks her and she ends up with her grandparents who had disowned her mother and she had never met before. Now I'm not sure what would be harder, living with people who hated you or living with someone who had betrayed you. Throughout this whole time Jersey still hadn't had a chance to mourn for her lost family and the life she used to have. Little by little, she gets a chance to deal with what happened and she starts to realize that her mother was not perfect, and she had her faults, that didn't mean that she was betraying her mother, just that she was moving on.
It wasn't until about 90% that Jersey finally got the closure she needed. Although this was an emotionally taxing book, it didn't take long to read. I was able to read it in about 2 hours because I didn't want to stop reading until I found out what happened to Jersey.
Even though there are other characters who were also affected by the Tornado. For example there's her next door neighbor, Kolby. He got a cut that was infected and had to be in a hospital for months while the infection left his body and the skin graft settled. Her stepfather Ronnie had lost both his wife and his daughter at the same time, with no one left to help him.
The ending was definitely my favorite thing because it ends on a happy note. Jersey still has family, however, strange and she is able to get back to some normalcy after everything that happened. We get to see that she'll be able to move on. It was a bittersweet ending. What I hadn't realized while reading was that it was the same author as the Hate List and Thousand Word, which is another emotionally destroying books. If I had realized that, I probably would have been better prepared for reading Torn Away.