Waiting on Wednesday is a weekly meme hosted by Breaking the Spine were we talk about upcoming releases we can't wait to check out! This week I picked.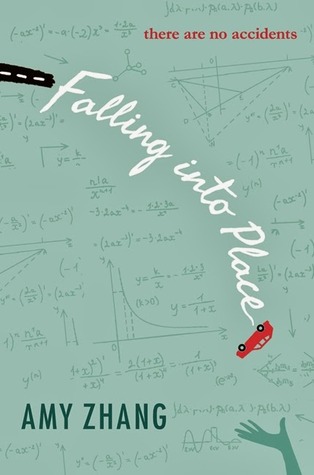 Title: Falling Into Place
Author: Amy Zhang
Pages:304
Publisher: Greenwillow Books
Pub Date: September 9th, 2014
Add to Goodreads
On the day Liz Emerson tries to die, they had reviewed Newton's laws of motion in physics class. Then, after school, she put them into practice by running her Mercedes off the road.
Why? Why did Liz Emerson decide that the world would be better off without her? Why did she give up? Vividly told by an unexpected and surprising narrator, this heartbreaking and nonlinear novel pieces together the short and devastating life of Meridian High's most popular junior girl. Mass, acceleration, momentum, force—Liz didn't understand it in physics, and even as her Mercedes hurtles toward the tree, she doesn't understand it now. How do we impact one another? How do our actions reverberate? What does it mean to be a friend? To love someone? To be a daughter? Or a mother? Is life truly more than cause and effect?
I haven't read anything by Amy Zhang but just by reading that blurb, I already want to start bawling. From what i've heard it's a beautiful book, there's a lot of 5 star reviews. Usually books that talk about suicide are either too shallow or too depressing but it seems like this one's a perfect mix.
What are you waiting for this Wednesday? Leave a link or comment below :)