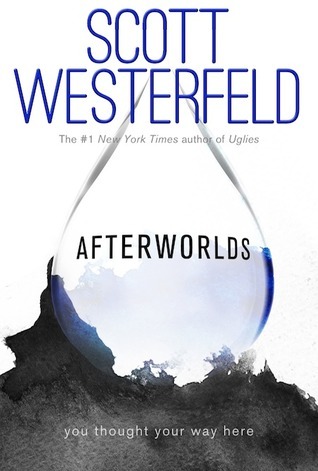 Title: Afterworlds
Author: Scott Westerfeld
Pages: 608
Publisher: Simon Pulse
Pub Date: September 23, 2014
Source: Edelweiss
Add To Goodreads
Darcy Patel has put college and everything else on hold to publish her teen novel, Afterworlds. Arriving in New York with no apartment or friends she wonders whether she's made the right decision until she falls in with a crowd of other seasoned and fledgling writers who take her under their wings…
Told in alternating chapters is Darcy's novel, a suspenseful thriller about Lizzie, a teen who slips into the 'Afterworld' to survive a terrorist attack. But the Afterworld is a place between the living and the dead and as Lizzie drifts between our world and that of the Afterworld, she discovers that many unsolved - and terrifying - stories need to be reconciled. And when a new threat resurfaces, Lizzie learns her special gifts may not be enough to protect those she loves and cares about most
The idea of writing an entire novel feels so foreign. The only thing I really know about the publishing process is from "Romancing the stone" and tweets that authors make (especially Ally Carter). So an entire novel that takes me through the writing process? Yes please!
It starts off with Darcy Patel getting her novel published, she's freaking out, ditching college to move to New York. No one in her family has read her book, and she can barely believe its real, It only took her thirty days to write the entire novel.
Then starts chapter two, now all of a sudden she's in an airport and there's a terrorist attack. Wait. Not her… some girl named Lizzie? Who is she? And why has her story started? Then we go to chapter three and now we're back with Darcy?
Apparently every other chapter would be a scene from Afterworlds, it's a story inside of a story. I personally don't like ghost stories. I'm a huge scaredy-cat and they just freak me out so I half-skimmed all the Afterworld chapters. Which means I didn't get the whole "experience" but it was a cool idea.
As for Darcy's story she frustrated me so much! She moves to New York on a budget and instead of following the budget she goes all crazy and buys an expensive loft and eats exotic ramen. I think I was more stressed about her budget than anything else. She was also so wishy-washy. She doubted herself nearly every other page. In the beginning it was okay but near the end even I didn't believe in her anymore Another huge part was her friend Imogen. Not gonna lie there were a few unexpected parts there, but I think it made the whole story more unique.
Imogen Is also a writer who has been in the publishing world longer than Darcy has. She starts to show her the rope and helps her meet the right people. She's also the first person to read Afterworlds and giver her feedback, other than her agent. Other characters that I really liked where Carla and Sagan. It was cute how they were these book nerds whose best friend is now this hot up and coming debut author.
Last positive thing about this story was the fact that we go to see Darcy's dreams come true! She not only met her favorite authors but was able to get blurbed by them, which must be the dream
Overall it was a fun story about a debut author, a great story for any paranormal lovers