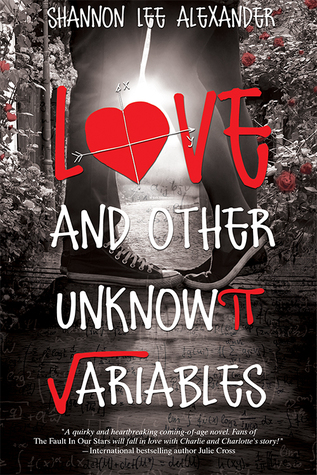 Title: Love and Other Unknown Variables
Author: Shannon Lee Alexander
Pages: 350
Publisher: Entangled Teen
Pub Date: October 7th 2014
Source: Netgalley
Add To Goodreads
Charlie Hanson has a clear vision of his future. A senior at Brighton School of Mathematics and Science, he knows he'll graduate, go to MIT, and inevitably discover solutions to the universe's greatest unanswered questions. He's that smart. But Charlie's future blurs the moment he reaches out to touch the tattoo on a beautiful girl's neck.
The future has never seemed very kind to Charlotte Finch, so she's counting on the present. She's not impressed by the strange boy at the donut shop—until she learns he's a student at Brighton where her sister has just taken a job as the English teacher. With her encouragement, Charlie orchestrates the most effective prank campaign in Brighton history. But, in doing so, he puts his own future in jeopardy.
By the time he learns she's ill—and that the pranks were a way to distract Ms. Finch from Charlotte's illness—Charlotte's gravitational pull is too great to overcome. Soon he must choose between the familiar formulas he's always relied on or the girl he's falling for (at far more than 32 feet per second squared)
Math is one of the hardest class for most of us. The last thing I wanted to do was a read a book where every other word is about an equation. Until it was mixed with the purest form of romance. It starts intense and quickly, he meets Charlotte before the 1st chapter but he has no idea what he's getting into.
Charles is a math genius, so much so that he goes to a special school for math genius. His biggest problem is finding love. Every time he tried to hit on a girl he ended up getting hit… literally. Which is why he's surprised at meeting a girl and not getting punched. Then by a strange turn of events she ends up in his house and now he has a second chance. This girls name is Charlotte, she's a free spirited artsy type of girl. Which confuses Charles even more!
I was conflicted when thinking of what to rate this book, on one hand it was fun and the male POV was accurate. At the same time it was hard to not compare it to another book(s) with the same theme and genre (Cough Cough). I know that I should never compare books but I couldn't help it! It was like the "How to *Insert Spoiler* for dummies". That being said it was still well written and heartbreakingly beautiful on its own. Its mixed with comedy and maybe a little of desperation as Charlotte starts to completely take over Charles life. Then we find out Charlottes secret, it was unexpected and well timed. Just when I was about to give up and mark this as DNF the entire book changed direction
Each character was special in their own way, for example there's Jo Finch, she is Charlottes sister and Charles English teacher. It's a conundrum because at Charles School of Math they were not kind to English teachers and constantly tried to get them to give up. My other favorite character was Greta, she was sweet and sassy, everything a best friend should be. It also showed that guys and girls CAN be friends without any sexual history or future. That's mostly because she has a boyfriends, James who is huge and has become Charles best friend. Its sweet because Greta helps him with Charlotte without even knowing she was.
Overall this is a great book that has a huge twist. Be prepared to laugh and have your heart broken. I didn't love it but you might.