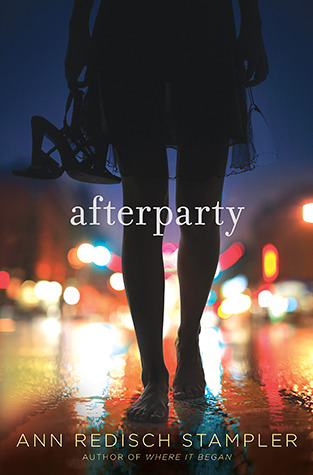 Title: Afterparty
Author: Ann Redisch Stampler
Pages: 416
Publisher: Simon Pulse
Pub Date: January 7th, 2014
Source: Borrowed
Add to Goodreads
Emma is tired of being good. Always the dutiful daughter to an overprotective father, she is the antithesis of her mother -- whose name her dad won't even say out loud. That's why meeting Siobhan is the best thing that ever happened to her...and the most dangerous. Because Siobhan is fun and alluring and experienced and lives on the edge. In other words, she's everything Emma is not.
And it may be more than Emma can handle.
Because as intoxicating as her secret life may be, when Emma begins to make her own decisions, Siobhan starts to unravel. It's more than just Dylan, the boy who comes between them. Their high-stakes pacts are spinning out of control. Elaborate lies become second nature. Loyalties and boundaries are blurred. And it all comes to a head at the infamous Afterparty, where debauchery rages and an intense, inescapable confrontation ends in a plummet from the rooftop.
This follow-up to Ann Redisch Stampler's Where It Began, reveals how those who know us best can hurt us most
I knew this would be a hard read but the cover was just to entrancing and I just had to read it. It starts of amazing, that prologue immediately dragged me in and I thought I was in for a very dramatic read but unfortunately it started at its peak and just went downhill. I was hoping for a mean girls-esque type story with betrayal, romance, and toxic friendships but it ended up being more Mean Girls 2.
Emma is tired of being Emma the good, and after years of being the new kid and never making a mark she decides this move will be different. Now she's in LA where temptation is everywhere, and if sins had a face it would be Siobhan. There's nothing she hasn't done and nothing she won't. Here's a warning sign, if someone calls you a best friend after only knowing you for an hour… RUN. Emma did not realize this which is why she ended up in a heap of trouble. In order to keep up with Siobhan, Emma starts lying to her father about everything, until she can barely keep up with them. All the lies are leading up to the party of the year, aptly known as "The Afterparty" and Emma is determined to get there and to not be a complete loser when she gets there.
Emma's backstory is one of my favorite things, even though it's tragic, she is able to move past it. Even though it haunts her it doesn't control her which is such a rare trait in YA stories. Apart from all the lying Emma is still trying to find love, which is where Dylan comes out. Dylan was one of the worst main guys I have ever seen. He's whiny, pathetic, and a complete slacker. Instead of actually trying to be good or even have a personality, he just sits there all pissy that everyone loves his brother more. It gets very frustrating.
Then there's Siobhan, in her head she was the IT girl and she saw Emma as the girl next door and wanted to convert her into a mini me, which goes great until Emma wants to be her own person. Her cool girl façade starts to fade and slowly we see her unravel. It isn't advertised as a psychological thriller but that's what it reads like and it would've been so much better if it had focused on that instead of a relationship with whiny Dylan.
Overall it's a great book for fans of Means Girls with a dash of teenage angst