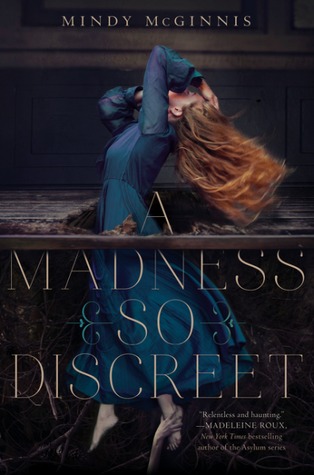 Title: A Madness So Discreet
Author: Mindy McGinnis
Pages:384
Pub Date: October 6th 2015
Publisher:Kathrine Tegen books
Goodreads
Grace Mae knows madness.
She keeps it locked away, along with her voice, trapped deep inside a brilliant mind that cannot forget horrific family secrets. Those secrets, along with the bulge in her belly, land her in a Boston insane asylum.
When her voice returns in a burst of violence, Grace is banished to the dark cellars, where her mind is discovered by a visiting doctor who dabbles in the new study of criminal psychology. With her keen eyes and sharp memory, Grace will make the perfect assistant at crime scenes. Escaping from Boston to the safety of an ethical Ohio asylum, Grace finds friendship and hope, hints of a life she should have had. But gruesome nights bring Grace and the doctor into the circle of a killer who stalks young women. Grace, continuing to operate under the cloak of madness, must hunt a murderer while she confronts the demons in her own past.
In this beautifully twisted historical thriller, Mindy McGinnis, acclaimed author of
Not a Drop to Drink
and
In a Handful of Dust
, explores the fine line between sanity and insanity, good and evil—and the madness that exists in all of us.
First can we talk about how amazing this cover is! Its hauntingly beautiful and set up the story perfectly. Between the great title and that cover i forgot to read the synopsis, which means that whole story was a surprise for me. Grace could have had a first class life, she was pretty, rich, and young but life was not kind to her. She ended up in an unregulated mental asylum and sent to the gallows of the world. Luckily she runs into doctor who realizes just how smart she was and decides to use her as his assistant
Now for the first time ever, Grace has an escape to the darkness in her life. There she learns what true friendships are made of and that others have been through struggles as well. Grace is one of my favorite heroines, through every ordeal she stayed level headed. Although her moral compass strayed a bit she had Dr. Thornfellow. Together they make a Sherlock & Watson duo trying to figure out crime in a small-town. They solve crimes with no specific evidence other than observations which is cool because at times it mirrors an antique Criminal Minds. Now this is not a psychological thriller and it doesn't dive into the world of mental illness but the last couple of chapters are worth staying for.
There were a couple of things that were annoying such as the way they talked. Even though it was getting on my nerves it was accurate to the time period so I can't complain too much. The other thing that was overdone is the amount of times they called Grace beautiful, although we should've been focused on how smart she was, everyone who meet her just talked about her looks. It was constantly insinuated how she could be a prostitute if she wanted too.
Overall it was a great read full of drama and crime. It was more Precious than Girl, Interrupted