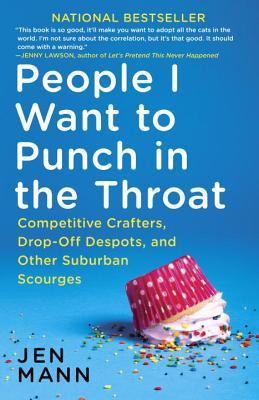 Title:

People I Want to Punch in the Throat: Competitive Crafters, Drop-Off Despots, and Other Suburban Scourges
Author: Jen Mann
Pages: 208
Pub Date: September 9th, 2014
Publisher: Ballantine Books
Jen's Blog and Add to Goodreads
A debut collection of witty, biting essays laced with a surprising warmth, from Jen Mann, the writer behind the popular blog People I Want to Punch in the Throat
People I want to punch in the throat:
• anyone who feels the need to bling her washer and dryer
• humblebraggers
• people who treat their pets like children
Jen Mann doesn't have a filter, which sometimes gets her in trouble with her neighbors, her fellow PTA moms, and that one woman who tried to sell her sex toys at a home shopping party. Known for her hilariously acerbic observations on her blog, People I Want to Punch in the Throat, Mann now brings her sharp wit to bear on suburban life, marriage, and motherhood in this laugh-out-loud collection of essays. From the politics of joining a play group, to the thrill of mothers' night out at the gun range, to the rewards of your most meaningful relationship (the one you have with your cleaning lady), nothing is sacred or off-limits. So the next time you find yourself wearing fuzzy bunny pajamas in the school carpool line or accidentally stuck at a co-worker's swingers party, just think, What would Jen Mann do? Or better yet, buy her book.
Have you ever wondered what its like to be a mother with an impossible husband, raising two kids in a suburban home? Then "People I want to punch in the throat" is the book for you! The stories are told by Jen and who is not only a modern mom but is also hilarious. She doesn't take life to seriously and concentrates more on having fun and getting stuff done.
She starts by telling us the story of she met her husband: on an AOL chat room of all places! Jen is not delusional, she knows it's a crazy place to meet someone. Now even though I don't have kids and I'm not even close to getting married, I couldn't help but die off laughter at Jen and her colorful life… and word choice.
So kudos to you Jen and now you have a new blog follower!
Overall this is a great book for anyone looking for a little comedy in their life.