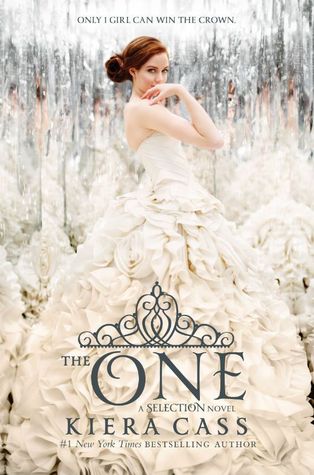 Title: The One
Author: Kiera Cass
Pages: 323
Publisher: HarperTeen
Pub date: May 6th, 2014
Series: Yes
Rating: 4.5 Romantic Stars
The Selection changed the lives of thirty-five girls forever. And now, the time has come for one winner to be chosen.
America never dreamed she would find herself anywhere close to the crown—or to Prince Maxon's heart. But as the competition approaches its end and the threats outside the palace walls grow more vicious, America realizes just how much she stands to lose—and how hard she'll have to fight for the future she wants.
From the very first page of The Selection, this #1 New York Times bestselling series has captured readers' hearts and swept them away on a captivating journey... Now, in The One, Kiera Cass delivers a satisfying and unforgettable conclusion that will keep readers sighing over this electrifying fairy-tale long after the final page is turned.
What to say about this book!
There's so many emotions, I half hate it and I half love it. I hate it because it didn't end like I wanted too but I can't deny it was a good book.
I'll do my best to make this review spoiler-free, and if there's a spoiler I'll give a warning. So let's start with the good:
The Friendships
There is so much friendship, even though the girls are still competing for Maxon and the crown they see beyond that to their future. They also realize that they might not be chosen but even with that they could become life long friends.
"You don't choose him; He chooses you. There's no point in hating others for that".
America started seeing them less as "the competition" and more like actual girls, which led to a Breakfast Club moment
"And there we were, in the background of it all. The Perfectionist, the Sweetheart, the Diva… and me."
The friendships didn't just come from the rest of the elite. America can only choose either Maxon or Aspen, and even though she didn't pick one of they guys, you could see they would become good friends.
"You deserve better than me being with you because I feel obligated"
"Not my boyfriend, not my friend, but my family."
The Romance
Obviously romance is a HUGEEE part of this book, but I've got to say, Kiera Cass knocked it out of the park.
There were so many amazing moments, but they didn't overtake the book. It wasn't constant " Oh America I love you and you're beautiful" but in between all the twist and turns therewere snippets of cuteness and \2 very intimate scenes.
"You are not the world, but you are everything that makes the world good. Without you, my life would still exist. But that's all it would manage to do."
"It was every kiss we'd ever had, all the uncertainty, all the hope."
"After all these months of trying to reconcile what I wanted and hoped for, I realized then – in this moment – it would never make sense. All I could do was move forward and hope we that whenever we drifted we would somehow find a way back to each other"
Along with those two categories there should also be another for plots, but I've tried writing anything about the plot and spoilers just come out so I'm simply going to say it was great and definitely takes the cake from the other two.
But that was all the good… now we go to all the bad things:
The Stupid Choices America Makes
It's ridiculous how America can pinpoint exactly what she shouldn't say or do… and then does it anyway.
To give you an example, before we get to the first 100 pages we've already heard 6 times how dumb her choices are
"Her eyes became sympathetic. "America, you are full of nothing but bad ideas. Great intentions but awful ideas."
She also couldn't come up with anything for herself
"But when they'd heard my line – the one Maxon had specifically fed to me – about joining my past and my future, they thought that was spectacular."
The entire ending would have been a lot smoother if America had just fessed up and told the truth. But again god forbid she does something smart
Lastly there were few plot holes. The beginning was full of twist but after that everything sort of dissolves then picks up in the last 20 pages ( next sentence full of spoilers!). What I can't wrap my head around is that in the end Southern rebels dressed as guards attacked the castle BUT they were dressed as castle guards. They had gotten the uniforms from guards that had disappeared from there post. Why wouldn't a king try to find out what happened to his guards? Wouldn't someone have found the bodies and guessed what was going on?
Overall it was a good book and great finale, I didn't imagine it would end like this but I've made peace with it. If you haven't started the series you should, because it's definitely worth the eye rolls and swooning. Here's a clapping Ryan Gosling to celebrate this finale